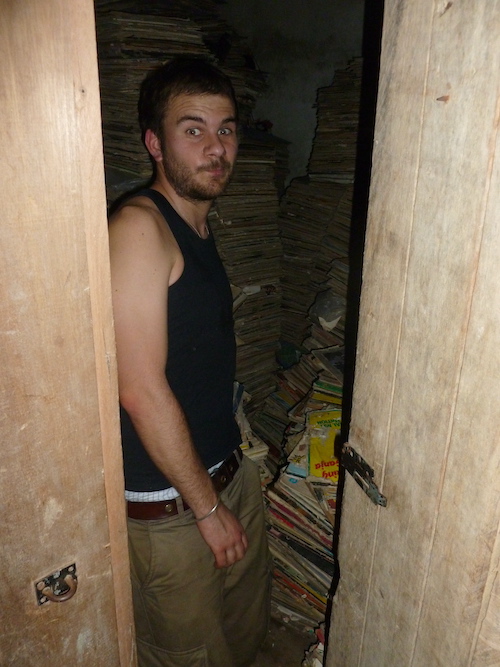 Direct Links to Mixtape: Soundcloud / Youtube
Founder of the essential French Blog African Grooves, digger, DJ, Nanga Boko label boss and co-runner of Nubiphone, Armand de Preseau has lots up his sleeves !
We mobilized a bit of his tight schedule to chat about his labels' unique re-issues and the drive behind it, and were graced with a gorgeous vinyl mixtape for the occasion, full of killer rare tunes !
Get your best speakers up and running, crank it up, and join us in a journey through the 1960's and 70's Africa & beyond !
(Read on for the interview)
Tracklist
MBT's- MBT's sound (Congo)
The Smoking 7 - Fihavanana (Madagascar)
Napo De Mi Amor - Leki Santchi (Togo)
Poly Rythmo - Segla (Benin)
Andre Redo - Teknologi (Martinique)
Charles Songo- Gkinumanze (Congo)
Atomic Bomb Zigoto- Menyeckse (Cameroun)
Elias Rahbani- Beat (Lebanon)
Georgie Joe - Eliza (Mauritius)
Zakry Noel - Sio Yiri Min (Ivory Coast)
Mimi - Ote (La Reunion)
Roger Fakhr - Fine Anyway (Lebanon)
INTERVIEW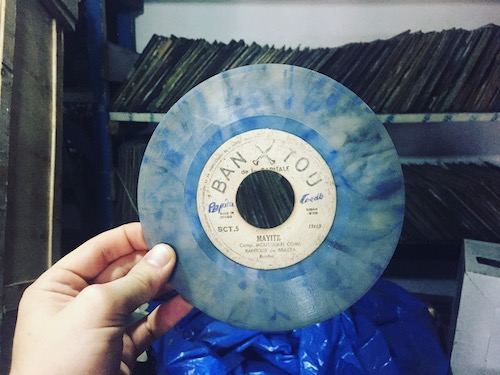 - Hi there, could you tell us a bit about your backstory and how the notorious digger Armand de Preseau came to be ? How and why did you start your website, African Grooves ?
Hi Malong and all readers of the Asymetrics!
The "notorious" Armand de Preseau? Notorious ... a big word ah ah! Here, you're giving me the opportunity for a good start: you know, for me it's music and sharing first, we are only transmitters and music broadcasters! We have to stay humble, without the music, without the vinyl, without all these bands from way back, these precious recordings, we would be nothing! So you know, the ego, celebrity, these big words, that's not for me! It's all about staying in the background, and music first!
*Anyway, I'm Armand, 34 years old dj and vinyl digger. I've been collecting records from Africa, the Antilles, Asia, Maghreb, Middle East and the Indian Ocean from the 1950s to 90s for almost 20 years now. I also lead the "Nubiphone" and "Nanga Boko Records" labels on which I have reissued 5 LPs with Jazz, Funk, Folk and Disco accents, originally released in Cameroon in the 1970s and 80s .*
I also run the website www.africangrooves.fr as well as a YouTube channel where I share my musical discoveries
I spent a good part of my childhood moving about: 12 years shared between Cameroon and Madagascar mainly, and I started collecting Techno and House records from Detroit and Chicago from a young age, then went through the classic US Soul / Disco / Funk (with an eternal love for the music of Philadelphia and Salsoul records!). I then followed on the Bahamas side to discover Reggae / Disco hybrids, and rocked on the music of the neighboring French West Indies; then finally I went to search for African grooves, and later Oriental and Asian music.
I stay close to my musical roots still, and to this day I still dig the classics of Detroit Techno just as well as traditional Malagasy tracks ... It depends on my mood of the moment!
I have also traveled for several years to search for records and artists on site, whether to offer them to work together on projects or, simply interview them in order to learn more about their past. Also, I aim to collect their testimonials and give a chance to their audience to rediscover them, as many live dire lives today and are forgotten even in their own countries.
As for my website "African Grooves", as I told you above, I believe in sharing. I started collecting records quite young, and with my little collection widening over time, I found myself thinking that it was a shame to store all these treasures without being able to enjoy them with people!
So I had the idea of ​​founding my blog "African Grooves" in June 2010, which finally gave me the opportunity to share my collection online to whoever was interested, from the Middle East to the West Indies via Africa! I focus on hard-to-find tunes that can be difficult to access in this "all digital" age, as they were often small local pressings...
Moved with the desire to share with more people, and having reached a glass ceiling on the Blogspot platform that did not allow me to do as many technical things as I wanted, I founded the website www.africangrooves.fr in January 2017, the affiliate youtube channel, and my Soundcloud account on which, every Wednesday and Sunday, I share rare tunes from my collection as well as thematic selections.
In parallel, I never miss an occasion to spin records for events and shows, always with great pleasure!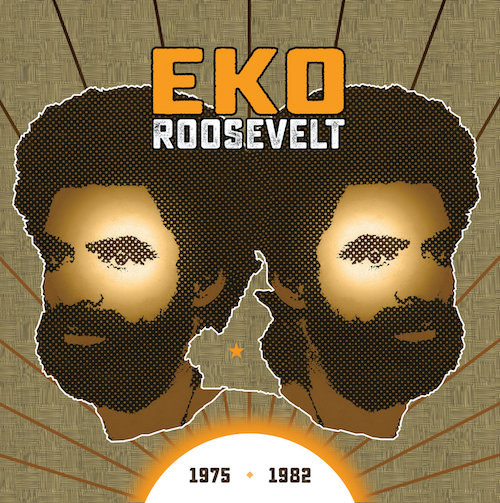 - You run the label Nanga Boko, and co-run another one, Nubiphone, could you tell us how the adventure started ?
It came quite naturally, always in this perspective of wanting to go further in sharing! Having collected records for a long time, and especially from the African continent, I thought it could be great looking onsite by myself: In 2015, I had the opportunity to return to Cameroon (a country where I spent part of my childhood), and fell back in love with the country. From there, I had the chance to travel back a great number of times, crisscrossing the four corners of the country to look for rare records.
*Throughout my travels, I slowly formed my own mapping of local recording labels and the connections between them, but I was challenged by my lack of knowledge of the artists themselves, asides from the ones who made it in Europe like Manu Dibango, André-Marie Tala or Francis Bebey - very little information was available apart from a few lines in highly specialized publications.*
Starting from this observation, I decided to take advantage of my trips across the country to go on a quest for these artists from the past, with the hope of meeting them and interviewing them in order to expand my archives, and to be able to share valuable information about the Cameroonian musical scene and its history!
*That's how, during one of my travels in 2016, in Douala, I had the chance to meet Nkotti François, a major artist of the local music scene since the 70s, where he officiated as the singer of the "Black Styls", one of the most prominent bands at the time. It was during that meeting - and completely on a whim - that I got the idea of ​​founding my label "Nanga Boko", aiming to distribute all these albums that were too confidential or too rare today, that I loved so much, to the greatest number! It was the logical continuation of the route that had driven me so far …*
When I returned to France, I started the process of creating a reissue label (I knew nothing about it until then): The administrative nitty gritty, the canvassing for manufacturers, the search for a sound engineer ...
Add to that the fact that I decided to do the maximum by myself (the text and graphics for liner notes, the digital and sleeve restorations…), really wishing that the releases would be as close to the original as possible while matching my vision… and Nanga Boko was created!
*Around the same time, by chance, I met another collector and digger of African vinyl at a garage sale: Guizo Zykey, whom I was supposed to buy a record from. Sharing the same vision on safeguarding and sharing this heritage, we immediately sympathized. We met several times, I explained to him it could be more fun continuing this adventure with a partner, to share the burden, get a better perspective on things ... and it was also a good way to divide the financial costs, as all our records are entirely self-produced!*
With Guizo up for the challenge, we quickly launched Nubiphone (the idea being that I kept "Nanga Boko Records" for more personal projects) - and until today, I still haven't bought the record we met about !
- Your first five releases through both labels focus on Cameroonian artists, what drove you there and how did you pick the records you reissued ?
Chance and encounters along the way I would say ... But funny you should ask, I should mention that the label will not focus only on reissues of Cameroonian records! In fact, it is only bound by the journey I told you before, things were a bit improvised, step by step, without thinking about it, as I had this passion focus on Cameroon where I grew up! As for the records that I reissue, it's only albums or bands that have profoundly marked me personally, with whom I really have a special connection, or that triggered something in me when I heard them! You know me, I could never work with a record that does not inspire me, even if I was sure it would work commercially. I could not work on an LP or compilation that would only be meant to be a financial success, and which would only come in response to market-demand (a very sought after LP for example, or something dancefloor oriented), that's not for me .. My leitmotiv, what matters to me since the beginning of this beautiful adventure is to discover albums that move me personally - in which I believe! I do not care about reaching 1000 or 1 person, if I reach even only one, I consider my bet successful!
- For each release, you've been looking for the artists to meet personally prior to getting into the licencing process, how's the experience been ? Any fond memories you could recount for us ?
In general reissue labels can decide according to their policy in dealing with the artists (or their families), or producers or labels... Out of respect, we do make it a point of honor in Nanga Boko and Nubiphone to work directly with the artists for each album we re-edit, or with their families when they are no longer of this world.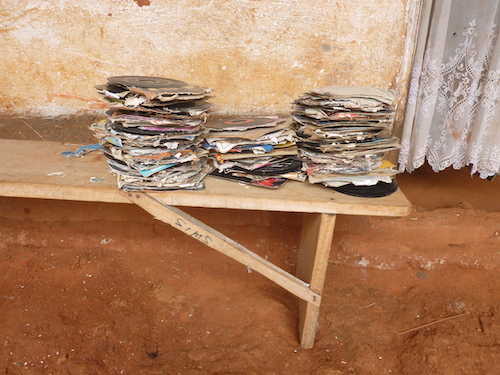 Traveling, investigating, playing word of mouth to find the trail of musicians who sometimes only released one single record at the time, completely confidential, and disappeared…all that is in our eyes an integral part of the reissue process, and it's so exciting!
Working directly with the artists is a way for us to honor them; it's giving a boost to bands that maybe did not have the recognition they deserved at the time. Now, several factors may be at play: low distribution means at the time, limited pressings and micro labels, being too far ahead for the scene at the time ... We could also very well deal with producers or labels, but we consider that without the artists themselves nothing would have been possible, and we would not today have the pleasure of rediscovering all these buried treasures… Everyone can find the money and the means to produce a record, having talent is another issue!
The copyrights topic is a very interesting one and there is much debate in the world of reissues today: should we work with the person or entity who technically has legal rights when it had very weak links with the bands at the time or worse: has zero connections to it at this point (through the merging of majors in the 70s for example) ?
In short, I would say that everyone should do things the way they think is fair, consistent with their convictions! Obviously I speak here only of official reissues, as I prefer to pass on labels that do not even have the intellectual honesty to do their research, however difficult, but that is a mere matter of respect, basic and obvious, in view of all the work put in by these bands.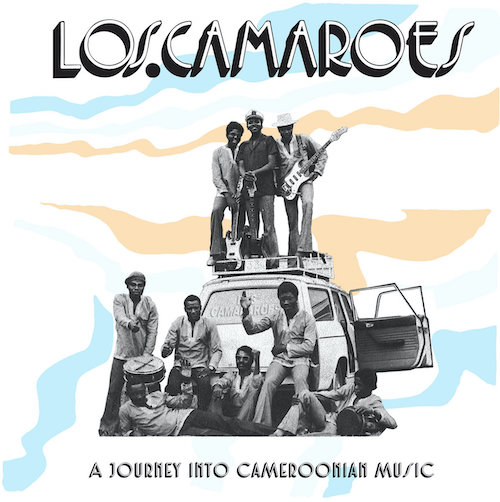 Memories or anecdotes related to vinyl?
Record digging is a passion which, as you know, sometimes brings incredible encounters and transports you to unlikely places, so anecdotes… yes, I have tons! I will mention the one that touched me the most and that I previously mentioned, which was a trigger for beautiful things for me: when I met François Nkotti, the first artist that I reissued!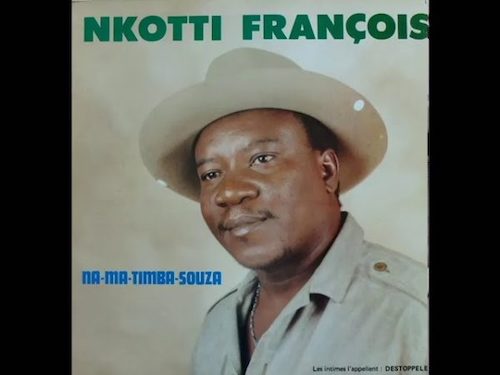 Above all, you must know that this is an artist who is very famous in Cameroon, who has forty albums under his belt, the first of which, "From Bonaberi In Douala", recorded with the "Black Styls" 1977, is one of my favorite records of all times! I have sought it for many years (very few copies were released, recorded and distributed only in Cameroon), and I had the opportunity to recover it through an exchange with a collector living in Japan, visiting Paris - illustratig how far records are traveling sometimes! Back in Douala in 2016 then, on the day when I had the chance to meet him: I went to his office, I was faced with this big man, very cold, accustomed to interviews and who exuded an incredible aura. We started the interview very formally, and he told me about his youth, his beginnings in music, and I could bring the convo where I wanted: to get him to talk about his first LP.
He came to the genesis of it, and I asked if he had the opportunity to listen to it recently. He confirmed that very few copies were issued at the time, and that it was very hard to find today, even in Cameroon, and that he himself did not have it (the few copies that I myself was lucky enough to find there were still extremely worn or unplayable). At that point, I took out a CD on which I had digitized the vinyl in Paris before leaving, in order to leave as a gift. He looked at me, a little unsettled, and put it in his stereo. The first notes scrolled, and I saw him gradually metamorphosing, taking his head in hands, shaking, and starting singing songs with tears in his eyes. I had, unwittingly, taken him 40 years back, to his beginnings, his first artistic struggles, first concerts, first love stories ... Super exciting!
Driven by the emotion and without knowing where I was going, I suggested working on a reissue project, sharing how much the album meant to me, and all that this project would crystallize: our magical meeting, his artistic debut ... stoked, he took me in his arms, telling me how happy he would be to embark on this adventure. We then went to a restaurant to celebrate till the wee hours, and since that day we have always kept a very special and strong relationship (I am, as he likes to remind me, his "son of Paris"), and I have always made it a mission to visit him every time I was traveling to Cameroon!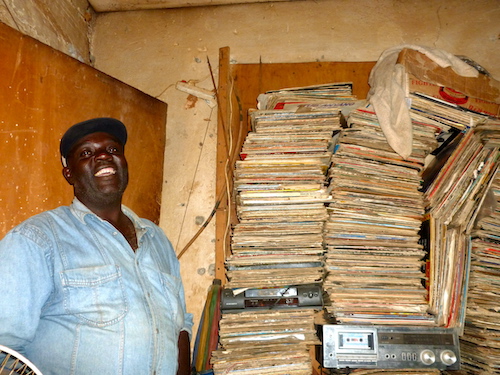 - You're a worldwide digger so this might be a tough question, but asides from Cameroon, is there another country whose music you particularly affectionate ?
Rather tough question!
Better than a country, I would say a region (so that I can cheat a little!), namely the Indian Ocean (and more particularly La Reunion, Mauritius and Seychelles) because it is also a place Where I grew up and with which I have a special connection! Honestly I don't know if it's due to that link, but the musical genres from that area (Maloya, Sega, Salegy, Tsapiky and other psychedelic quirks, soul or funky!) have much effect on me. It's surely the story of this area, all the socio-cultural miscegenation and its impact on the diversity of local music that fascinate me!
- What's cooking with Nanga Boko and Nubiphone ? Can you tell us a bit about the projects you're working on and what releases we can expect in the near future ?
It is true that our last exit was in September 2019, and nothing since! I feel like it's been going super fast since, and a lot has happened that took us away from the reissues, be it COVID, personal and professional projects on the side for my partner and myself .. In any case on the labels front I can tell you that we expect fresh and beautiful new things. We have two projects in mind for which we are working on the licencing as we speak. Difficult for me to tell you more as nothing is official yet!
- And now for the dessert, can you tell us what your top 5 tunes of all times are ?
A top 5 of my favorite pieces of all time? I think of all the questions you asked me, it's downright the most difficult!
I imagine that for you it must be the same, tastes change with time and moods, discoveries and meetings, but some tracks actually succeed in sticking with me. If I had to think about 5 titles that move me deeply or simply that I love, it would be:
Nkotti François – Loko La Mboa (album « De Bonaberi A Douala », Cameroon)
Alain Peters – Complainte Pour Mon Défunt Papa (album « Mangé Pou Le Cœur », La Réunion)
Ziad Rahbani – First Introduction (album « Bennesbeh Labokra.. Chou ? », Lebanon)
Liza Ngwa – N'Kirre (album « Sunshine », Cameroon)
Salah Ragab & The Cairo Jazz Band – Egypt Strut (album « Egypt Strut », Egypt)
If I had to explain in detail why these tunes in particular, and tell you the associated stories and anecdotes we would still be at it for a while .. let's keep a few stories for a future meeting!
Thank you for this exchange, long live the Asymetrics!
Huge thanks to Armand de Preseau for the mixtape and interview !